2018 Cover Crop Program
Our Cover Crop program's purpose is to protect water quality by reducing erosion, run off and leaching of phosphorus in to Lake Champlain.  Additional benefits include conserving soil, capture nutrients, reduce weed competition, mitigate soil compaction, build soil organic matter, and/or improve overall soil health.
Reduce runoff and soil erosion
Improve soil health
Conserve nutrients
Increase soil organic matter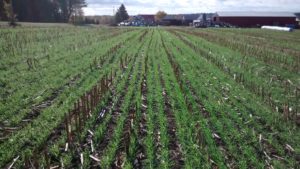 The Clinton County Soil & Water District is looking for interest from farms who would like to plant cover crops following corn silage or other annual crop harvest.
The District will pay for up to 75 acres of cover crop establishment.
If interested, please contact the office at 561-4616 ext 3,  email or fill out the CCSWCD Cover Crop Program 2018 application and return.
Applications will be used to gauge interest, determine number of sites and help to calculate funding we need to allocate to this project.