2018 Rotational Grazing/Fencing Mini Grant Opportunity
The Clinton County Soil and Water Conservation District wishes to support ro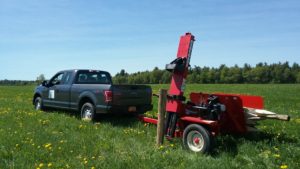 tational grazing practices in Clinton County.  With the addition of a post pounder to our available equipment, we want to assist livestock owners to better utilize their resources.
The purpose of this grant is to fund purchase of supplies in order to enhance rotational grazing and to reduce resource concerns on farms. We expect to be able to assist at least 3 farms with up to $3,000 each.
This is a reimbursement grant, which means grant recipients purchase supplies and will then be reimbursed upon project completion and approval.
Farms must be enrolled in our Agricultural Environmental Management program and will be ranked and selected based on proximity to water sources and AEM resource concerns.
If interested, fill out the APPLICATION and return to the Clinton County Soil & Water District by July 19th.