2019 Erosion & Sediment Control Training
Contractor/Developer Trained Individual/Qualified Inspector Required Training
Friday April 5, 2019
12:30 pm 4:30 pm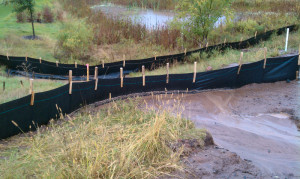 Under the NYS Department of Environmental Conservation's Stormwater Permit GP-0-15-002, all developers, contractors and subcontractors must identify at least one trained contractor from their company that will be responsible for implementation of the SWPPP, and have at least one trained contractor on site on a daily basis when soil disturbance activities are being performed. Also, developers must have a qualified inspector conduct regular site inspections in accordance with GP-0-15-002.
*Qualified inspectors and trained contractors must have 4 hours of training in the principles and practices of erosion and sediment control endorsed by NYS DEC, SWCD, or CPESC Inc. Training is good for 3 years. Training is not required for CPESC, LA, and PE certified persons.
LOCATION:
Mooers Volunteer Fire Department
2508 Route 11
Mooers, NY 12958
Cost:
$80 per person*(see below)
Includes training material and breaks
Training offered through a partnership with Clinton County SWCD and Franklin County SWCD
Registration Information:
To obtain a registration form, download and print,
or contact Karen @ 518-561-2097 or karmstrong@fcswcd.org.
Registration and payment must be received by April 2, 2019. Make checks payable to:
Franklin County SWCD and send to 151 Finney Blvd. Malone, NY 12953.
Class will be filled on 1st come, 1st served basis. No attendee substitutions are allowed without prior approval.
* Refunds will not be provided unless the attendee contacts the District within 24 hours in advance of the course.
Registration begins at 12:00 PM. Photo ID is required and will be checked.
Training Presented By:
Warren County Soil and Water Conservation District:
Jim Lieberum, District Manager and Nick Rowell, Natural Resource Specialist
Please contact the Franklin County SWCD at 518-651-2097 if you have any questions.
**Other Trainings Are Available** For scheduled trainings, please check the NYS DEC ( http://www.dec.ny.gov/chemical/8699.html )