2018 Erosion & Sediment Control Certification
Contractor/Developer Trained Individual/Qualified Inspector Required Training
March 22, 2018
12:30 pm 4:30 pm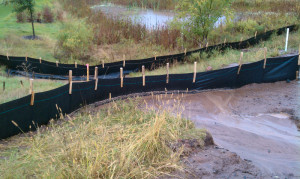 Under the NYS Department of Environmental Conservation's Stormwater Permit GP-0-15-002, all developers, contractors and subcontractors must identify at least one trained contractor from their company that will be responsible for implementation of the SWPPP, and have at least one trained contractor on site on a daily basis when soil disturbance activities are being performed. Also, developers must have a qualified inspector conduct regular site inspections in accordance with GP-0-15-002.
*Qualified inspectors and trained contractors must have 4 hours of training in the principles and practices of erosion and sediment control endorsed by NYS DEC, SWCD, or CPESC Inc. Training is good for 3 years. Training is not required for CPESC, LA, and PE certified persons.
LOCATION:      Clinton County Cornell Cooperative Extension Meeting Room
6064 Route 22, Suite 5  Plattsburgh, NY 12901
COST:                         $75 per person, non-refundable  
Pre-payment required; checks must be received by March 20th.
Please make checks payable to "Clinton County Soil and Water Conservation District". We do NOT accept credit cards.
Send payment to:  Clinton County SWCD, 6064 Route 22, Suite 1, Plattsburgh, NY  12901
A Registration Form for ­each­ trainee must be completed and returned with the payment.
Check In begins at 12:00 pm.      Photo ID Required at Check In
Space is limited and PRE-REGISTRATION IS REQUIRED by April 28th
PRE-REGISTRATION INFORMATION:
Contact Clinton County Soil & Water at 518-561-4616 ext.3 or e-mail: peter.hagar@ccsoil-water.com 
PRESENTED BY:
Dave Reckahn, CPESC- District Manager
Essex County Soil and Water Conservation District
Presentation will begin at 12:30 pm
**Other Trainings Are Available** For scheduled trainings, please check the NYS DEC (http://www.dec.ny.gov/chemical/8699.html) or contact Essex County SWCD.