Conservation Services & Machinery Rental
The District offers services and machinery to benefit conservation efforts in Clinton County.
In 2013, the District purchased a Great Plains No-Till Drill for use by area farmers and landowners to reduce the amount of tillage necessary for seeding pastures, hay fields and cover crops.
No Till Drill Rental                          $15.00/acre
Pick Up & Delivery Fee Combined: $30.00
Beyond 30 miles; $1/per mile
Drill has 2 seed boxes- Small seed box for alfalfa, clover, timothy, etc.
Large seed box for cover crops, SxS, large seed grasses
 800 Gallon Hydroseeder is available for conservation seeding.  It can be an economical way to cover large areas, or sites where traditional seeding is difficult.  $250 per tank includes 1 operator, conservation mix seed, mulch, & fertilizer  We can assist with recommendations.
1 tank full will do about 1/4 acre.
A 3 PTH tree planter is available for conservation planting of trees and shrubs.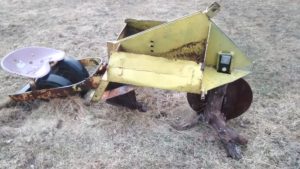 Research & Technical Assistance Fee:           $40.00/hour  $20.00 minimum
Tile Layout:                                      $150 min, $.05 per foot
Hydro Seeding                                $250.00/tank
Tree Trucking:                                $7.00 per bag
Tree Planting:                                
Tree Planter Rental:        $50 minimum, $50/1000 trees
Pick Up & Delivery Fee Combined:    $50.00
Soil Testing:                                  $10/sample for Agro-One basic test
   Sampling can be done by technician if AEM participant.
Returned Check Fee:  $50